Legally compliant and revision-safe archiving of e-mails
E-mail is the quickest and simplest method of communication these days. Offers, orders and contracts are sent electronically to the respective E-mail box as well as order confirmations and complaints. With conova's TopMail, you comply with all legal requirements. Your incoming and outgoing E-mails are stored long-term, centrally and securely. As a result, you have a complete backup of your mail data – without installing hardware or software.

Highlights at a glance
100 % archiving of all incoming and outgoing E-mails for up to 10 years
Compliance with legal requirements 1)
Access via Outlook plugin 2) or web interface
Identification of private E-mails possible
Full-text index enables quickest search time
Simple central management with 24/7 monitoring
No costly investment in own infrastructure required
Customer has no need to install hardware and software
Business E-mails often contain sensitive content that must not be lost – for legal reasons but also in order to access them again at a later date. Automatic and secure E-mail storage is essential for this. Business E-mails are subject to the same legal requirements as traditional letters. They must be stored and preserved for a certain period of time, and it must be ensured that audit access can be established at any time.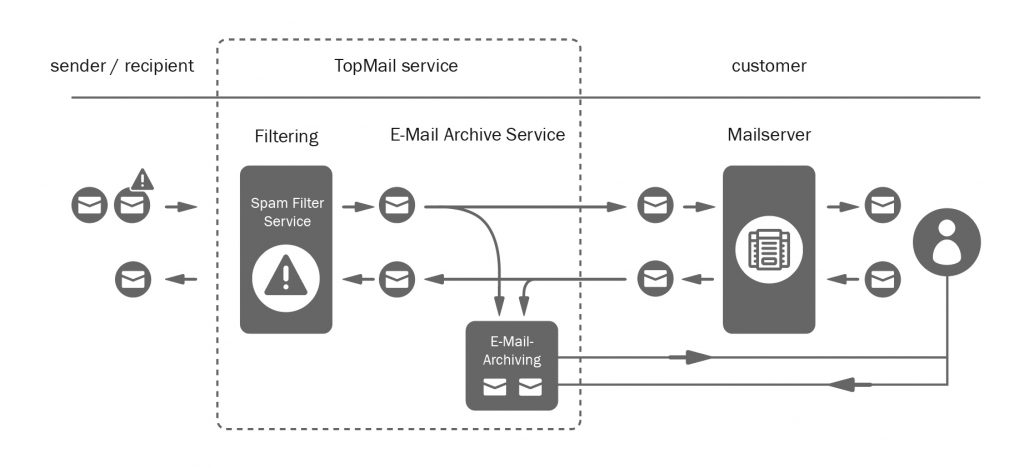 | | |
| --- | --- |
| TopMail Archive | price per user per month |
| up to 25 Users | upon request |
| from 26 to 100 Users | upon request |
| from 101 to 200 Users | upon request |
| from 201 to 500 Users | upon request |
| 500+ Users | upon request |
1) Further information can be obtained from your Account Manager. The client is responsible for the legal examination and assessment of individual points.
2) Only with use of TopMail Microsoft 365 Protection.

Notes:
• TopMail SV is required to use TopMail Archive.
• The price includes the provision of unlimited storage space for all billed mailboxes.
• 25 GB of storage per user is included, regardless of runtime.
• Monthly billing is based on the amount of system users – group and alias addresses and alias domains are not counted.
• Additional TopMail Services can be activated in the control panel. Please note that these services are subject to additional charges that will be added upon activation. Please contact us if you require a test position.
• This service must be canceled at least 3 months prior to expiry, otherwise the contract will be extended for a further 12-months period.

Contract details:
• Minimum contract period 36 months.
• Errors and changes reserved.