Topmail Archive meets all legal Requirements
Whether offers, contracts or complains: All tax-related and evidence-relevant e-mails must be archived for 7 years or longer. These deadlines are problematic for most companies. Seemingly inexpensive systems are often unable to store your data safely over long periods of time.
Larger archiving systems are hardly affordable. With TopMail Archive, you fulfill all legal requirements and additionally maintain a complete backup of your mail data.

Advantages
Secure: meets all Austrian legal requirements
Reliable: 100% archiving for 7 years or longer
Economical: no installation of hardware or software
Guaranteed: loss protection
In case of emergency: simple recovery of e-mails
Anywhere: access at any time via mobile app, Outlook, plugin and Web GUI possible
Transparent: search and find e-mails in mere seconds
Business E-mails often contain sensitive content that must not be lost – for legal reasons but also in order to access them again at a later date. Automatic and secure E-mail storage is essential for this. Business E-mails are subject to the same legal requirements as traditional letters. They must be stored and preserved for a certain period of time, and it must be ensured that audit access can be established at any time.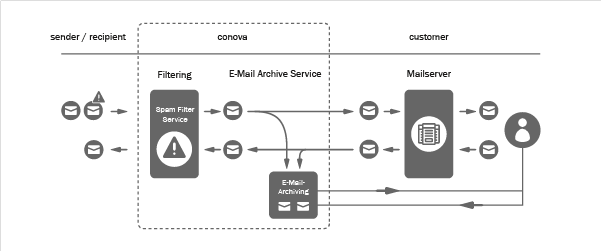 | | |
| --- | --- |
| TopMail Archive | price per user per month |
| up to 25 Users | EUR 4.50 |
| from 26 to 100 Users | EUR 4.09 |
| from 101 to 200 Users | EUR 3.78 |
| from 201 to 500 Users | EUR 3.17 |
| 500+ Users | upon request |
TopMail SV is required to use TopMail Archive.

25 GB of storage per user is included, regardless of runtime.
Monthly billing is based on the amount of system users – group and alias addresses and alias domains are not counted.
Additional TopMail Services can be activated in the control panel. Please note that if this is not a free trial, these services are subject to a charge and will be invoiced from the time of activation.
The cited prices are valid for a minimum contract period of 36 months. Errors and changes reserved, all prices exclusive of VAT.