TopMail SV: the best spam and virus protection on the market
conova TopMail SV protects your business from spam, viruses and malware. Our spam filter offers guaranteed spam detection of 99.9 % and virus detection of 99.99 %. These are the highest detection rates on the market at the moment. And this is how it works: We redirect your e-mail traffic to our data centers and review the messages there.
We remove harmful content and only forward clean e-mails to your mail server. Our user-friendly web interface and automatically generated spam reports offer you constant overview.

Advantages
Reliable: highest filter rate – guaranteed at 99.9%
Direct: ready to use
Efficient: no hardware or software required
Full Service: no administration hassle
False Positive Rate: under 0.0004 %
Secure: e-mails are cached if your e-mail infrastructure fails
Economical: fixed, calculable monthly costs
Intuitive: user-friendly web interface
Correct: extensive statistics
Upgrade: Advanced Threat Protection (Sandboxing) optionally available
The spam filter service offers the highest detection rates available on the market with a guaranteed detection rate of 99.9 % and a virus detection rate of 99.99 %. It protects mail servers from DDoS attacks and users from phishing E-mails. conova's multi-level filtering systems block the majority of spam E-mails as they arrive – keeping the quarantine clear and easily manageable.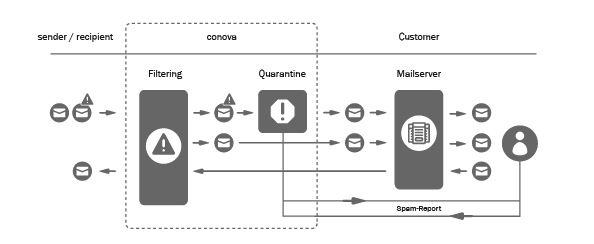 | | | |
| --- | --- | --- |
| TopMail SV | Set-up costs (one-time expense) | price per user per month |
| up to 25 Users | upon request | upon request |
| from 26 to 100 Users | upon request | upon request |
| from 101 to 200 Users | upon request | upon request |
| from 201 to 500 Users | upon request | upon request |
| 500+ Users | upon request | upon request |
Notes:
• Monthly billing is based on the amount of system users – group and alias addresses and alias do mains are not counted.
• Additional TopMail Services can be activated in the control panel. Please note that if this is not a free trial, these services are subject to a charge and will be invoiced from the time of activation.

Contract details:
• Minimum contract period 36 months.
• Errors and changes reserved.