TopMail Crypt by conova protects your e-mails simply and automatically
Business e-mails often contain sensitive information. Strong encryption is needed to protect against unauthorized readers and criminal intentions. However, encryption technologies have not yet become established in everyday life.
This has many reasons: they cannot be implemented easily and the administration is often time-consuming. conova has a solution for you: TopMail Crypt simplifies the encryption of your e-mails and also takes over the management of certificates.

Advantages
Convenient: functions fully automatically
Practical: simple handling
Freedom: independent of browser and operating system
Economical: no hardware or software required
Comprehensive: full service by conova
Secure: operation in redundant, secure data centers
Implementing E-mail encryption in a company centrally requires laying down ground rules and guidelines, but also means maintaining the overview of all encrypted E-mail traffic at all times. Easily define your encryption policies in a user-friendly web interface regarding which types of encryption you choose to communicate with your partners with: S/MIME or TLS. This is possible either as a flat-rate or individually for single users, groups or domains.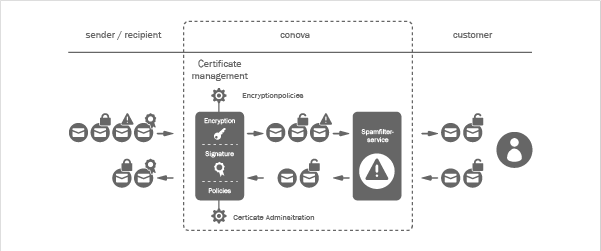 | | | |
| --- | --- | --- |
| TopMail Crypt basic package | Set-up costs | price  per month |
| Basic encryption package for 5 users incl. certificates | upon request | upon request |
| | | | |
| --- | --- | --- | --- |
| TopMail Crypt Certificate incl. certificate service | up to 25 Users | 26-100 Users | 101+ Users |
| Encryption per user excl. certificate per month 1) | upon request | upon request | upon request |
| Certificate per User incl. certificate service per month | upon request | upon request | upon request |
1) Basic encryption is necessary for all users in the domain. Encryption use certificates can be booked individually for single users.
Notes:
• TopMail SV is required to use TopMail Crypt.
• Monthly billing is based on the amount of system users.
• Additional TopMail Services can be activated in the control panel. Please note that if this is not a free trial, these services are subject to a charge and will be invoiced from the time of activation.

Contract details:
• Minimum contract period 36 months.
• Errors and changes reserved.